Randy Leago is one of the most creative and in-demand musicians in
Nashville.

His career is marked by performances, touring and recording with a wide variety of artists.

In 2009 he worked extensively in Nashville with many popular local acts, including his own bands, the Randy Leago Trio, Aqua Velvet and Downtown Wigs. He also did tour dates with Rock and Roll Hall of Famer Duane Eddy, gospel-soul vocalist Mike Farris, and Rewiring Genesis' Tribute to "The Lamb Lies Down On Broadway." In 2008 he toured nationally with pop soul singer SHELBY LYNNE in support of her CD "Just a Little Lovin'".

Also, in the fall of '08 he toured with NBC'S Nashville Star Winner's Show as keyboardist, showcasing the winners from the NBC television show.

Since 2003 he has been a multi-instrumentalist with Grammy winning country music star Kathy Mattea, playing a variety of keyboards, woodwinds and accordion, in settings from electric band to acoustic band, and often with fine symphony orchestras throughout the US.
Also since 2003, he has played keyboards, saxes and miscellaneous instruments
with platinum selling country/pop artist Deana Carter, on stage and in studio.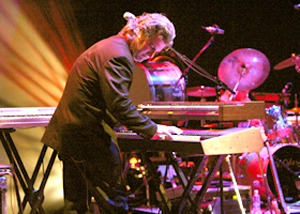 He has worked with country music stars Rodney Crowell, Waylon Jennings and
Dixie Chicks; pop music legends Janis Ian, Steve Cropper, Engelbert Humperdinck, Duane Eddy, Aretha Franklin and Paul Williams; and rockers Lucinda Williams, Bob Seger, Guster and Amy Rigby.
In Nashville he performs regularly with his post-lounge music ensemble Aqua Velvet, roots music group The Downtown Wigs,
rock album tribute band The Long Players,
all-star vocal group Kentucky Thunder, and many others.
Always ready to employ an exotic sound, Randy has spent much time working with unusual musical instruments such as bass flute, Irish whistle, sitar, cavaquinho and quica.
He has performed on stage and television throughout the US, Canada, Europe, Asia and South America. He moved to Nashville in 1988, after study of woodwinds, piano and voice at the music school of the University of North Texas. He continues to be a student of music of the world, exploring the instruments and culture of Irish, Brazilian and Indian music.